The greatness of The Donald is being praised and lauded almost everywhere. That's odd, just one month ago he was depicted by the media and most investment banks are the devil, literally.
Deutsche Bank is out with a note this morning, suggesting shares of $GS are about to soar — thanks to a rip roaring economy and widening spreads.
source: CNBC
The rally in bank stocks has priced in higher interest rates, but there is much more upside in the sector's shares from the economic growth that will come from the Trump administration's plans for deregulation and lower taxes, according to Deutsche Bank. Goldman Sachs will be one of the particular beneficiaries of the second part of this rally, Deutsche said, upgrading the share to buy from hold.


"GS seems well positioned for a stronger macro environment given revenue upside, good cost control and a valuation below peers (despite similar/higher current and expected returns)," wrote analyst Matt O'Connor in a note Tuesday.


"A stronger economy should benefit many capital market businesses—incl advisory, equity capital markets, and both fixed and equity trading (all areas of strength at GS). This should also be a positive backdrop for investing and lending (even assuming no regulatory changes)."

The analyst raised his 12-month price target to $255 a share from $180. The new forecast represents a 20 percent increase from Goldman's Tuesday's close.

"GS shares have mostly kept pace in the post election rally, but this was after lagging peers since the February lows (GS shares are up 50% since the 2/11 bottom vs. a ~60% rise for Market Sensitives on average)," stated the note.

"We sense that leverage to higher rates is mostly reflected in stock prices, but that higher lending and fee volumes from a stronger economy may not be," stated O'Connor.

The analyst said he believes there is a total of 25 to 30 percent earnings upside for the banking sector based on "a combination of stronger economic growth (better loan growth and fee revenues), higher interest rates (driving higher net interest margins), less regulation and lower tax rates."

With Goldman's Mnuchin being tapped as the new Treasury Secretary, it appears the great vampire squid wins again — in spite of their best efforts to support Hillary Clinton and prevent Trump from taking office.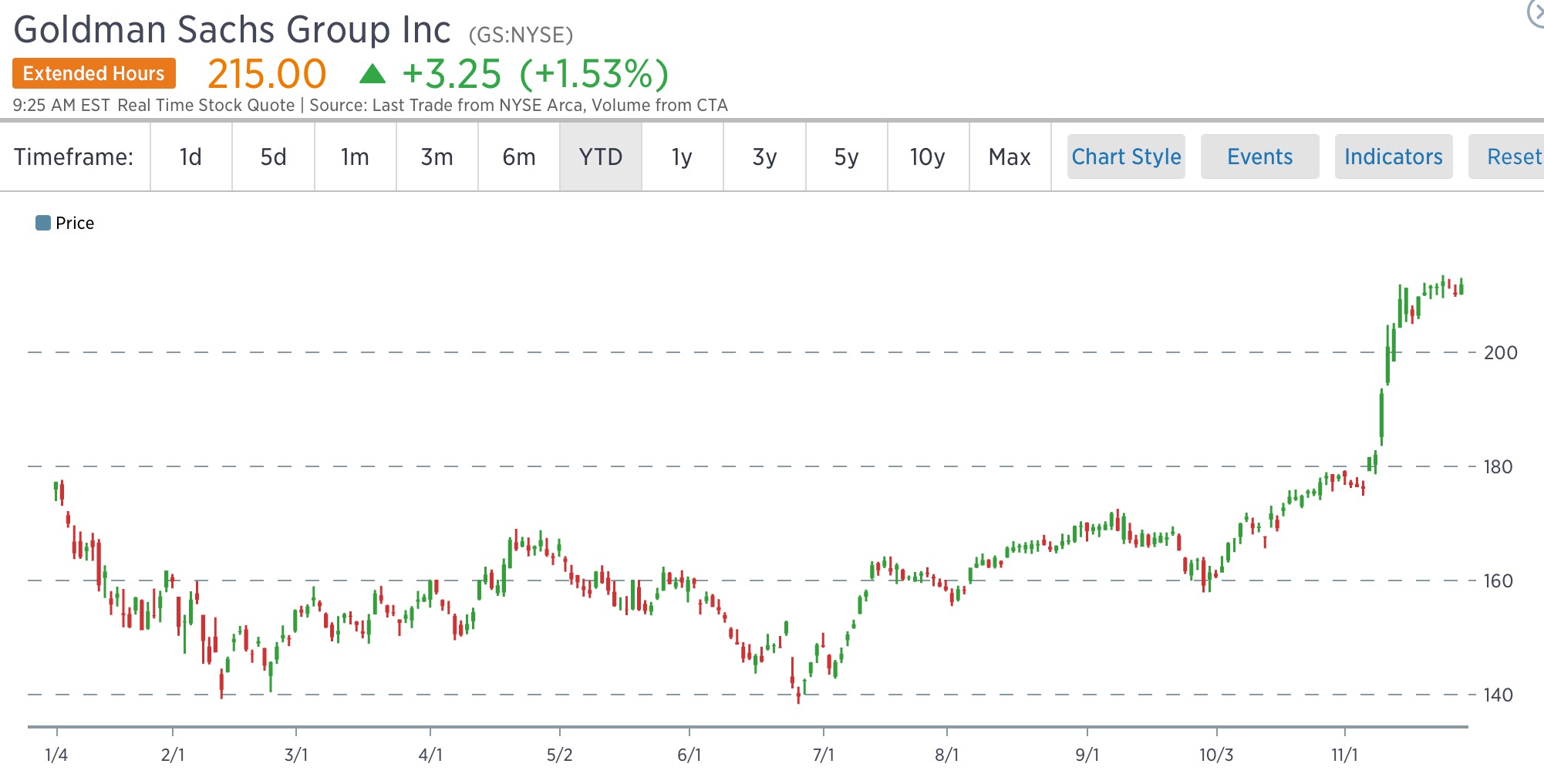 They seem to be doing quite well.
Content originally generated at iBankCoin.com
The post Deutsche Bank Says Goldman Will Soar Under Trumpenomics appeared first on crude-oil.top.